Chartered Engineer Certifications
---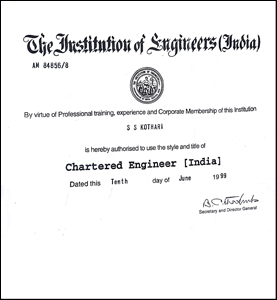 Valuation of Property
We do valuation for all kinds of property-Movable and Immovable.
Chartered Engineer Certification is done in:
Transportation of Machinery.
Second hand Plants.
Spares, machinery appriasals.
Import-Export of machinery & parts.
About Chartered Engineering Consultancy
We are engaged in offering highly reliable Chartered Engineering Consultancy to the clients. The services of Chartered Engineering offered by us sought for the certification of second hand Plant and machinery, and spares. The job includes stability report of machines and machinery appraisals. Our team of professionals is dedicated for rendering Professional Chartered Engineering keeping the exact requirement of the clients.